Footbridge
Vrchlabi, 2015
LOCATION AND FUNCTION
The proposed footbridge connects the C1 office building with the M2 Production hall. The footbridge should make available the dining hall on the 2nd floor of the office building for the workers and reduce dirt from outside.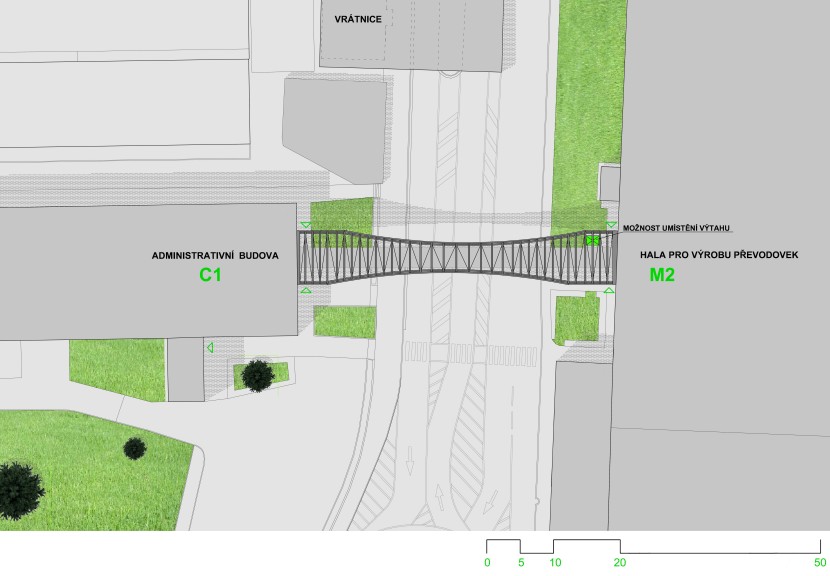 ARCHITECTURE
BASIC SHAPE OF THE FOOTBRIDGE
Basic shape is connection of the elements of two staircases, an inner tube and arches spanning over the road without other support.
SHIFTING OF THE ARCHES
The gatehouse hides a right part of the footbridge from the entrance view and there is another building on the right side from the opposite view. The footbridge react to its surronding by sliding the arches to showing them whole when you are approaching to the bridge.

VISUAL EFFECT DURING UNDERPASSING THE BRIDGE
You can have unique visual experience when you underpass the bridge. The bottom side of the bridge rotates first on one side and then to another.
STRUCTURE
Konstrukce je tvořena dvěma oblouky. Síly v obloucích vyvažují na každé straně šikmé sloupy a rovné sloupy v závěru mostu.
Rámy vycházející z oblouků vynášejí  vnitřní tubus. Ten je tvořen mostovkou, zastřešením a prosklením. Přístupný je dvěma schodišti z každé strany.
Pro konstrukci mostu je volena ocel. Obložení konstrukce je řešeno panely z děrovaného plechu / tahokovu.